Unit 315 is a residential project created by the Canadian builder Dennis Dorion and his wife Dorion Scott. The project is located in the Wrigley Building – a former chewing gum factory in Toronto, Canada, which was converted into apartments during the late 1990s.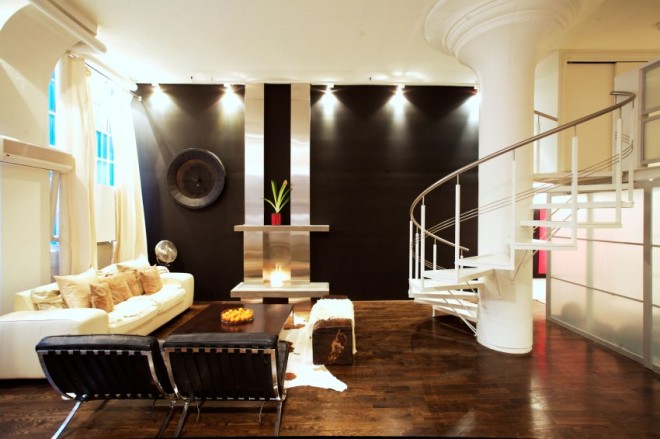 The interior of the apartment is contemporary and rich in details, integrating artistic elements with industrial ones. The predominant color on the walls and ceiling is white and a dark reflective floor offers contrast along with the dark tones of the side walls that are painted black.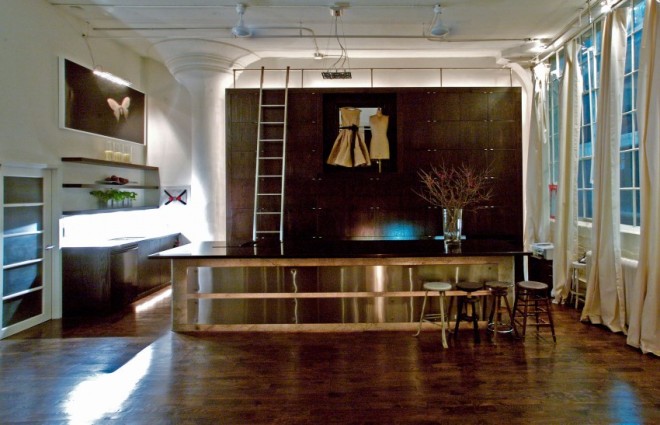 The overall neutral tones create a very elegant ambiance with long white curtains adding privacy and large windows allowing a good view of the surroundings. The lounge area is separated from the kitchen through a large island and the second floor is accessed through a spiraling staircase that also acts as a sculptural element in the living area. Another interesting characteristic of this space is that there is a separate room for the motorcycle so that it also becomes a part of the ambiance.
The Wrigley Lofts are the real deal. This is the type of place you picture when you think of a hard loft. No cookie-cutters here. There are multiple lofts in this former factory – each unit is unique with different finishes and layouts – from the floors to the lighting. The first owners got the space from the developer about as raw as possible so each person put their own stamp on their unit. Because the ceilings are so extraordinary, many units have a mezzanine level and some even have direct freight-elevator access. Like in the movies. Except you are the hero.
Suites feature original industrial windows, 14-foot ceilings, original concrete mushroom-style columns and the exposed pipes and duct work that one would expect in a true hard loft conversion. One of the best things about this building is the uniqueness of individual suites. Original purchasers of this building bought raw space from the developer for about $100/square foot, and each owner made these blank canvasses their own – consequently no two suites in the building are alike.